Spotlight Saturday at Spring Grove Features: Belinda Ramdyal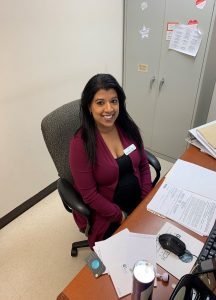 It's Spotlight Saturday and we recently had the opportunity to sit and learn about our wonderful Social Worker, Belinda Ramdyal. We invite you to get to know Belinda more by reading her interview below:
Q: What made you want to become a social worker?
A: I've always wanted to have a career that helps people, originally I was focused on children who might need a good listener. The first position I held had been in social work at a Juvenile Justice Dept., which was a medium-security detention center for adolescent males. After that, I started working in adult-day cares and found that I truly loved working with seniors. Since then, I've only ever worked at nursing facilities, like this one!
Q: What do you like best about working at Spring Grove?
A: I love how family-oriented they are here! They give me the flexibility I need to maintain my family life. I have a two-year-old son and really enjoy that they are always understanding and supportive of my work-life balance.
Q: How do you balance your career at Spring Grove and your family life?
A: Over time, I've learned how to keep my work and home lives from crossing over each other, so that I can really focus and give my all in each of them.
Q: What are 3 words you would use to describe Spring Grove?
A: I'd say that Spring Grove is home-like, close-knit, and committed.
Q: What do you like to do for fun outside of work?
A: I love going out to the movies and trying new food to eat. You could say that I'm a bit of a foodie!